Banana Financial Planner is a software that amplifies and improves your financial planning skills.
It clearly structures your work, does all the calculations and displays the projections in different forms.
You will know in detail how your business will perform and how much cash flow it will generate.
Banana Financial Planner uses an innovative accounting-based method, that makes it much faster and easier than any other tool.
2. Customize your accounts

In the Account or Categories table you can modify, add, remove accounts/categories, groups or subgroups.

You can create accounts for customers, suppliers, members or for cost and profit center or segments.

You can modify the chart of accounts at any time.
3. Enter your budget transactions

To create a financial plan, you add transactions in the Budget table. It works like accounting, but this are for the future.

Recurring costs, such as rent, are entered only once with the repeating frequency. In the columns Total you immediately see the amount up to the end of the year.

You may add as many rows as you require, for your current or successive years and modify your data at any time.
... and your financial plan is ready!
Banana Accounting 8 Software will now prepare everything for you.
You may now print any report you need
Provisional Balance Sheet, Profit and Loss and Liquidity Planning.
Detail of all provisional payments and receipts in the Account Cards and Journal.
Selection of required projection period (month, quarter, year). Banana Accounting 8 Software will project indicated recurrent monthly, quarterly and yearly transactions.
Comparison between Budget and effective Accounting.
Details for different projects (profit and cost centers) or geographical areas (segments).
Create your own new reports and save your settings for further use.
Here an example report. Year projection with quarter subdivision.
Or use of the extended planning functionalities
Use of quantity and price when entering transactions.
Use of formulas for calculating interest, amortization or taxation.
Crate your own Used Defined Functions in Javascript.
See Documentation related to the Budget table, use of formulas and columns.
Learning Tutorials
Basic tutorials, that can be easily adapted for any financial planning need.
Advanced tutorials:
Accounting based financial planning
The new accounting based approach to financial planning, used in Banana Accounting offers significant advantages over financial forecasting using Excel.
Projections in form of familiar accounting reports.
You enter projections as accounting transactions and you have forecast in form of well-known reports like Balance Sheet, Income Statements, Cash evolution, account cards.
Detailed planning.
You can enter all expenses and incomes in detail. It is easier, you get precise projections that you can easily modify. 
Faster data entry and instant projection over several years.
Repeating operations, like rent, are entered only once. It is faster and you get easily projections over several years (See Retirements plans over 30 - 50 years)
Automatic interest calculations.
You can enter formulas to automate complex calculations.
Reliable forecasts.
With accounting based projections your avoid typical spreadsheets errors. .
Some images direct from the software
Buget is used for indicate that the columns contains a projection.
Balance Sheet and Income & Expense projection by Month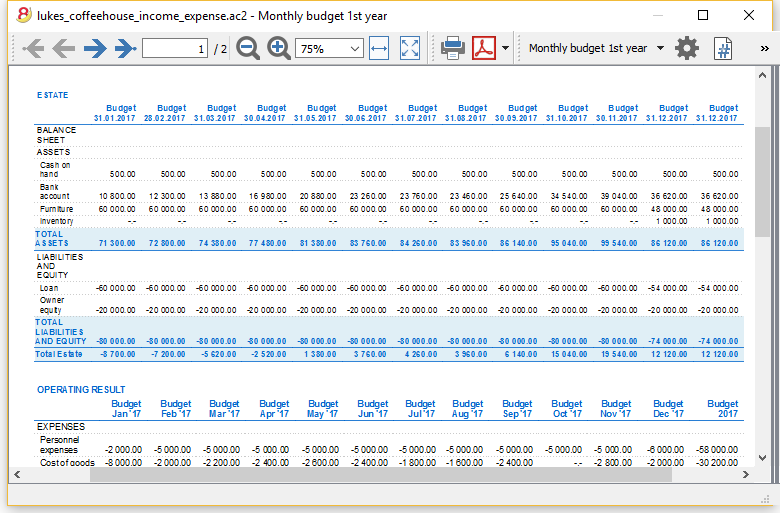 Balance Sheet and Income & Expense projection over 5 years by year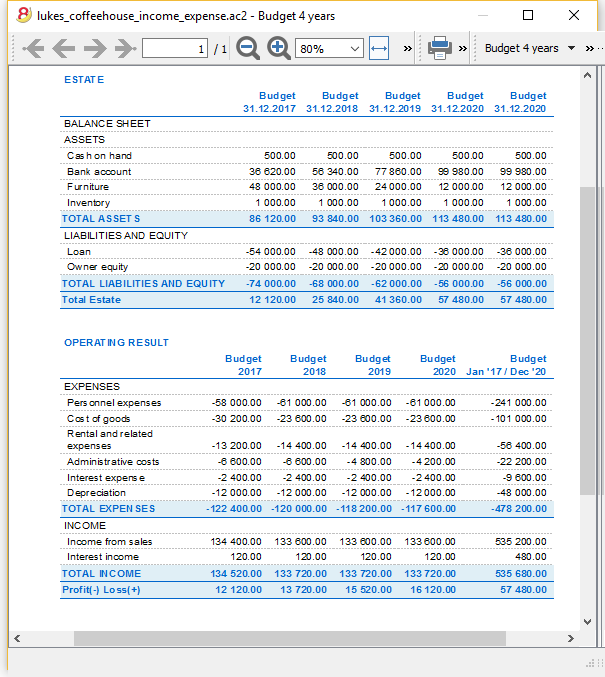 Projection of the Account Card
You can see exactly what are the expenses that drain you cash flow. .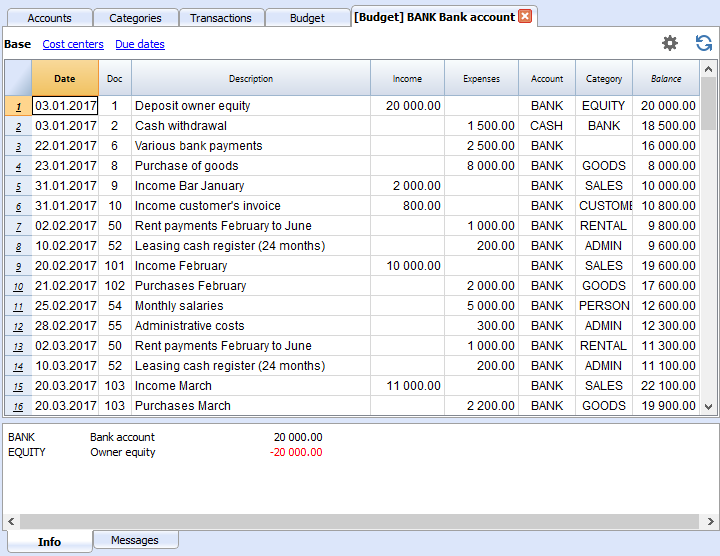 30 Years projection
Estate projection with 5 years subdivision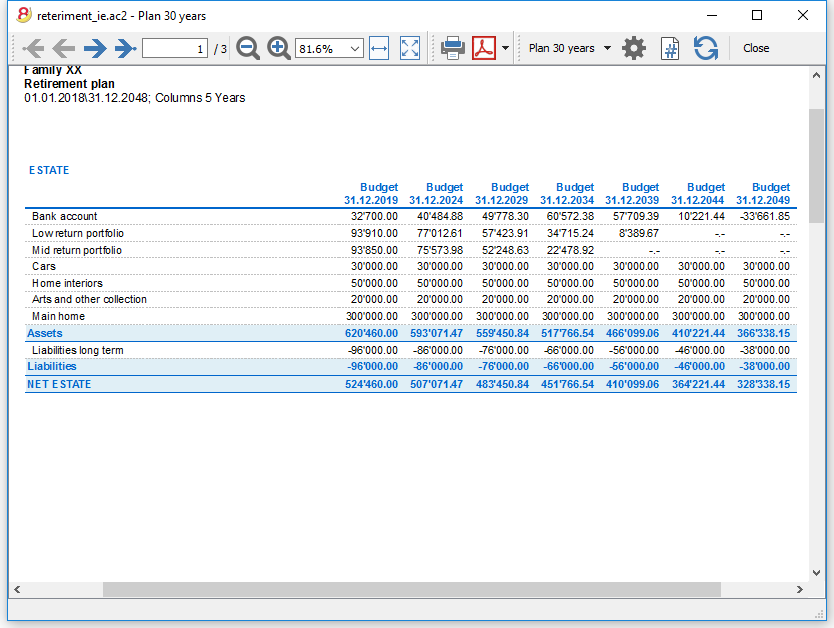 Income and Expenses projection with 5 year subdivision