Seamless Double-Entry Bookkeeping
Speed up your double-entry accounting! Banana Accounting makes it simple, professional, while freeing up more time. Browse through accounting chart templates, customize accounts and just start recording daily business transactions. Leave the rest to us!
Join us to automate your double-entry bookkeeping!
Try it for free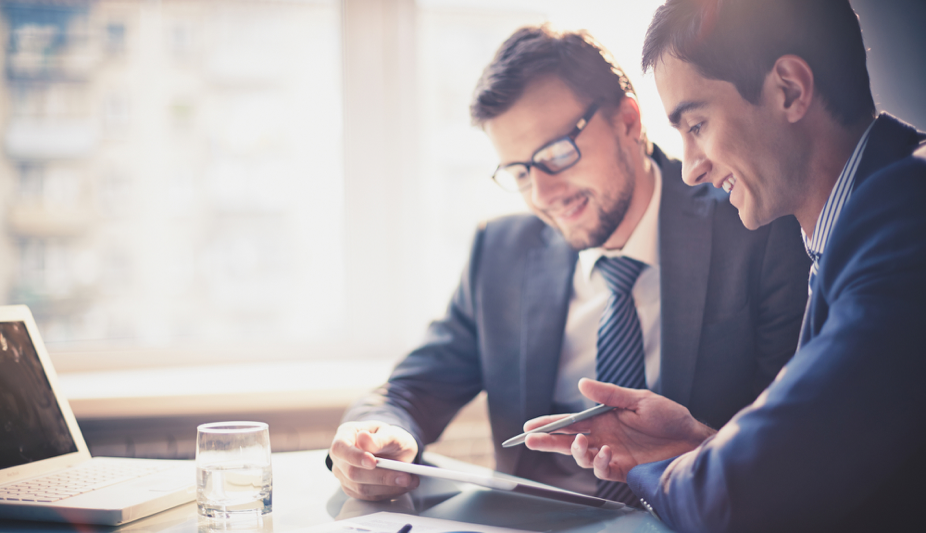 Automate your accounting one click at a time
Fast data processing, importing and exporting
Balance sheet and income statement, account card details
Customer and supplier management
Automated VAT reports
Cost and Profit centers, Segments
---
Quick view of your finances
Have a realistic and up-to-date view of your financial situation anytime you want. Go to the Accounts table to quickly check account balances, deposits, cleared checks, overall liquidity, sales volumes and the profit. The best thing is that you can organize the Balance Sheet and Income Statement as you wish, by adding accounts and groups.
Join us to try it!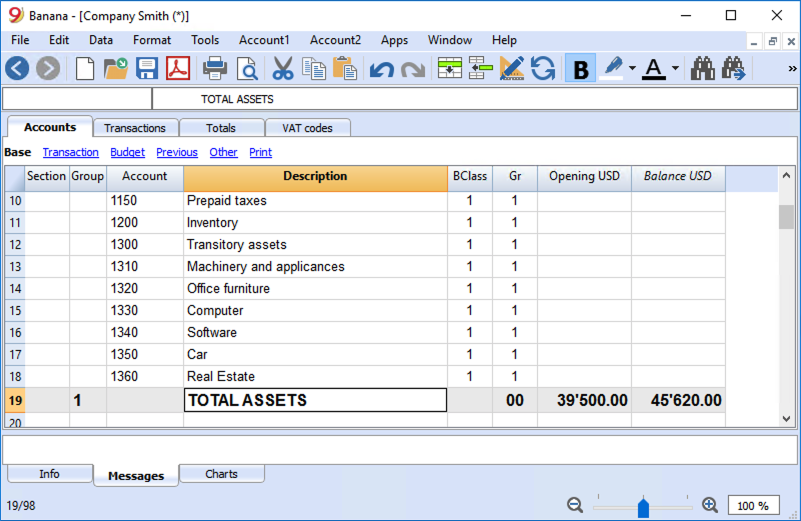 Speedy AND accurate bookkeeping
The user-friendly interface makes double entry accounting easy as you can move freely, copy, paste and see all the data. Banana Accounting makes it ultra-convenient by suggesting accounts and reporting errors or differences that you're free to correct 24 hours a day. You also get to mark recordings with colors, if you wish – should you need to further "complete" or "verify records.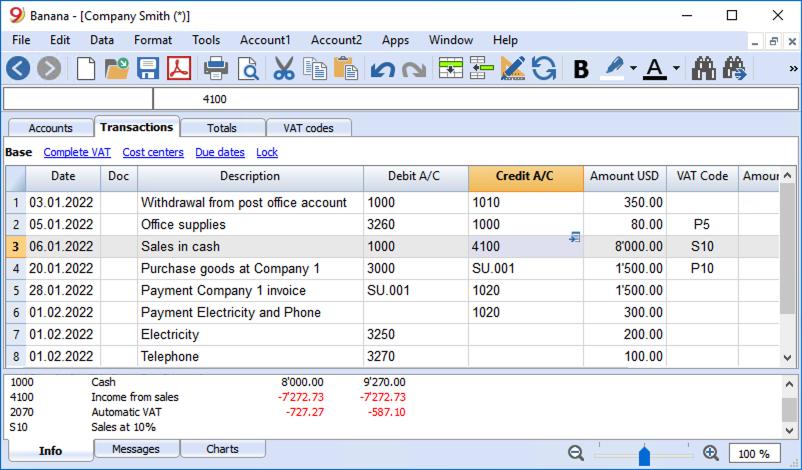 Import data. Link digital documents in seconds
Import bank statements in real-time, then complete the data you need later. And get ready to say "goodbye!" to guesswork because now you'll able to link each transaction to its relevant digital docs (receipts, invoices, discount vouchers, etc). Unlimited connections that bring more sense to your data.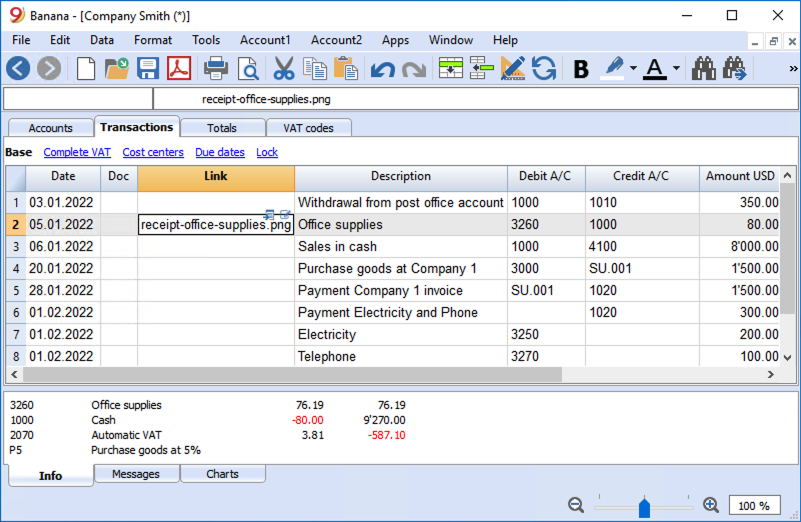 Safe thanks to the Blockchain
Security is critical. That's why Banana Accounting equips you with blockchain to prevent unauthorized editing. Applied and proofed by its successful application through virtual coins, block chain offers the digital seals you need to protect and keep your data aligned with the current legislation.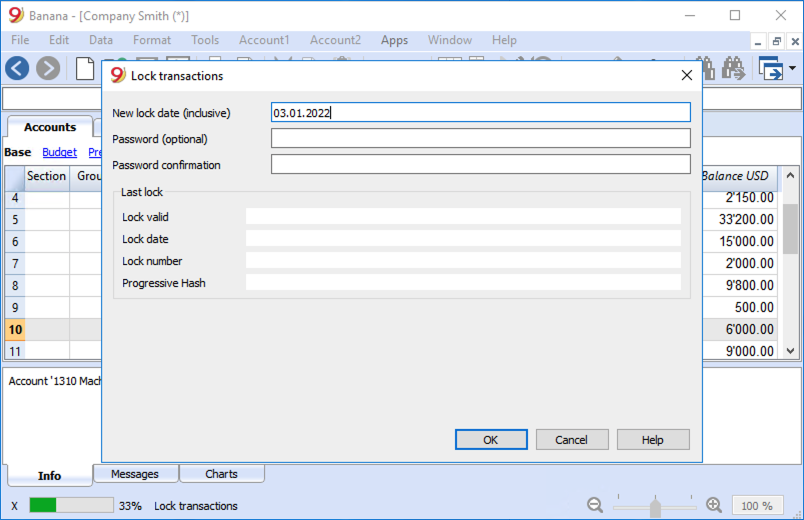 Intuitive billing
Banana Accounting automates invoice creation. Just insert items in the Registrations table and watch how the program automatically generates the invoice. In order to visually meet the highest branding standards, you also get a generous collection of templates to choose from. Some of them are even customizable with your company logo. More details....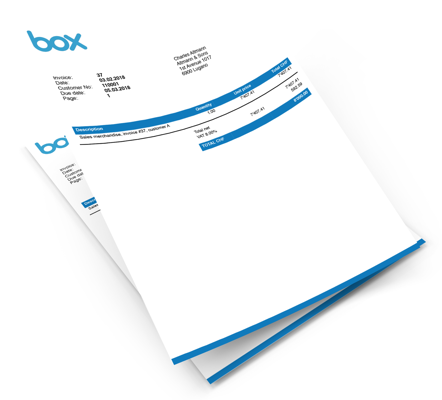 Manage special projects, business sectors or tasks
We keep up with the most dynamic businesses. If you seek advanced details for specific costs and revenues, use the Cost / Profit Centers and segments. You will instantly know the progress status of a certain sector or project at any time. Need detailed prints? One click and they are done!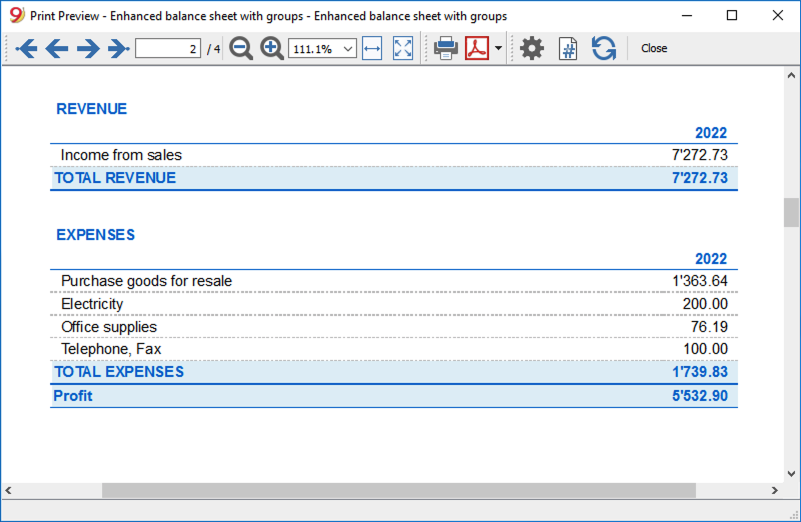 Professional results with one click
With everything so neatly organized, balance sheets and income statements only need a moment to get generated, at any time of the year. Comparison reports with previous intervals are also at hand.
Customize the logo on all statements or choose different colors for columns or amounts. Print, save the settings and done! Next time there's no need to start all over. PDF-friendly. Quality data export to Excel, Html, Txt. Powerful, intuitive bookkeeping at its best.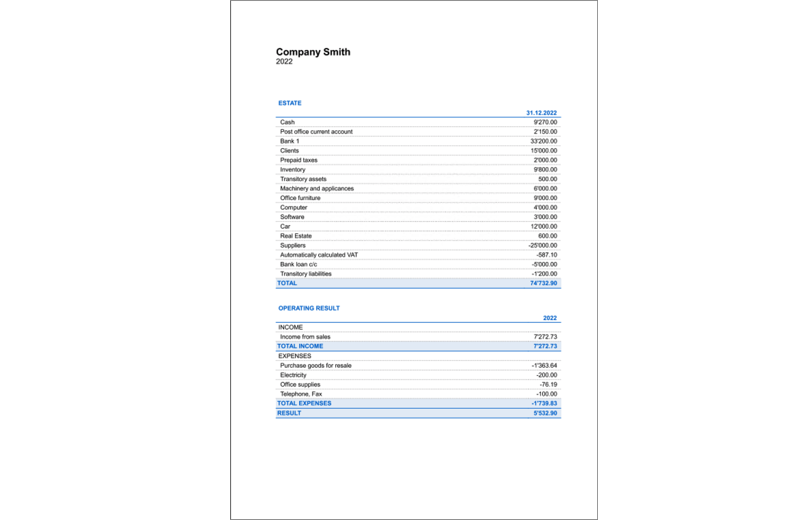 ---
Learn more
Go ahead. Give it a go!
Download the software, create your own accounting file and try out everything! By purchasing the license key, you can lift the 70 entries limitation, and all your work will be kept. 
Try it for free
Buy now